Since PayPerPost.com has implemented the geographical segmentation which provide advertisers the choice to pick bloggers according to the continent, country and even the states in the past few months, I believe Asian bloggers might be get noticed the opps are appeared in PPP marketplace are getting lesser last time. Especially when Google goes after everyday blogger and RealRank is launched, these opps are getting more and more lesser compare with last time after the implementation of PPP segmentation.
If you refer to the following screenshoot, it is so pity to see that only 1 opp is available in my friend' marketplace.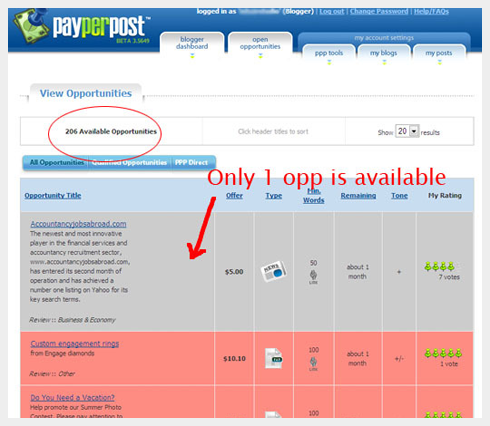 According to the above screenshoot, you might ask yourself why Asian bloggers only have less opps in the PPP marketplace, this definitely has been caused Asia blogger made complaints pertaining to this issue.
1. PPP advertisers still using Page Rank to create their opps although RealRank is launched may be they even don't know how RealRank can benefit them after the Google goes after everyday blogger. Many bloggers who participated in PPP have received a "big present" from Google, that's PR "egg" or "zero", but many advertisers are still looking for PR blogs.
2. PPP geographical segmentation is launched in the past few month, most probably because of the purpose to filter all the posties from non USA and Canada.
So advertisers say "sayonara" to Asia bloggers, you can just forget about PPP from now on. One more thing, may be Google will also can say "sayonara" to PPP because PPP can't fight with Google.
So PPP, they gonna to remove their Page Rank from their system and this only can prove that PPP is independent of Page Rank since they said they have their own ranking tool called RealRank.